A recent report submitted by the Washington State Department of Social Health Services stated that once in seven hours a child is killed with a firearm. The investigating officers have not yet discovered the cause of death. They believe that it could be either by accident or by committing suicide. It is estimated that for the past ten years, nearly one-thousand two hundred and twenty three teens had fallen victims to the gun.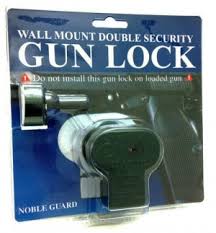 All the double security locks are designed in Israel and patented at United States of America. The gun security systems developed by the company are extremely safe to use. It act as a replacement of a standard gun. Some of the top gun safety devices offered by Locks 4 Guns are as follows:
1.Dual-Protection Wall Mounted Gun Lock:-
Dual-Protection Wall Mounted Gun Lock are exclusively designed to handle the firearm with ease. The customers can buy gun safety devices by browsing through the official website of Locks 4 Guns. It can be easily mounted against the wall or even on hard surfaces. The barrel is blocked while the gun's trigger is locked as soon as you had secured the guns from either end.
The installation process of this type of gun is simple. You need to just insert the key and detach the trigger lock with your arms.
Locks 4 Gun is the only online trusted gun store based in America where you can buy gun safety devices.